Cladito International is regarded as one of the top landscapers and a reputable name in the : FLOORISTA TERRACE GARDEN Services; by relying on extensive experience and quality services, we create organic gardens on top of terraces; with the best team of agricultural producers, we offer high-quality layout and advancement of FLOORISTA TERRACE GARDEN Services Delhi, at competitive economic and on-time completion.
Our crew recognises that the Terrance garden is one of the most effective strategies to live a greener and healthier lifestyle. However, it provides you with the best opportunity for people who have larger places. It is a wonderful idea to cultivate vegetables and fruits as well as little flowers and plants.
CLADITO INSULATED EXTERIOR PANEL SERVICE
Cladito Insulated Exterior Panel (CIEP) is a new kind of the Lightweight & high quality building decorative material, having the Insulation property as extra advantage. This is not only for exterior wall decoration of various constructions, But Also Suitable for refurbishment of Old Buildings.
Its surface is the high-quality Galvanized steel with specially processed layer covered with High weather-ability coating which is again backed with High Density PU Foam which is Fire-Retardant and Heat Preservation, and the backside is a high quality Aluminium Foil as a Protective Layer, which can acquire the effect of Heat Insulation, moisture proof, and Anti-UV Rays. Moreover these environmental Protection decorative materials will not release any harmful substance or green product.
CIEP can easily be fixed on the external wall of any building; the exquisite patterns will show a pure natural and fashionable effect to the building. The used material can be recycled and used again, which is a very cost effective.
Advantages of CIEP
CIEP is a Waterproof and Damp proof
CIEP is Eco-friendly & Durable also easy to Maintain
CIEP has a wow factor that is the 20 Years Exterior Warranty.
CIEP reduces Temperature up to 4-5 degree due to which it Lowers Energy Cost.
CIEP is Flame Retardant and Seismic Restraint.
CIEP has a great quality of Sound Insulation and Noise Reduction.
CIEP is easy to install which curbs the Cost also.
Energy Saying Insulation
Excellent thermal insulation performance ( average heat transfer coefficient as 0.20 w/m.k) Percentage of close are 97% in the First three year, Its thermal performance remains in its inital thermal insulation efficiency 95% for 180 days

Environmental Protection
The foaming process of polyurethane sheet with cyclopentane as foam foaming agent of polyurethane rigid foam model, Through high Pressure foaming, so that product meet the International convention for the Protection of the ozone layer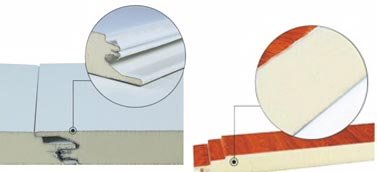 USES / APPLICATIONS
CIEP is a Waterproof and Damp proof
Exterior wall cladding for residential.
Commercial projects and factories.
CIEP is ideal for Porta cabins.
Terrance or Roof top room.
Prefabricated structures and Container.
House or Offices.
Click here for Technical Specification